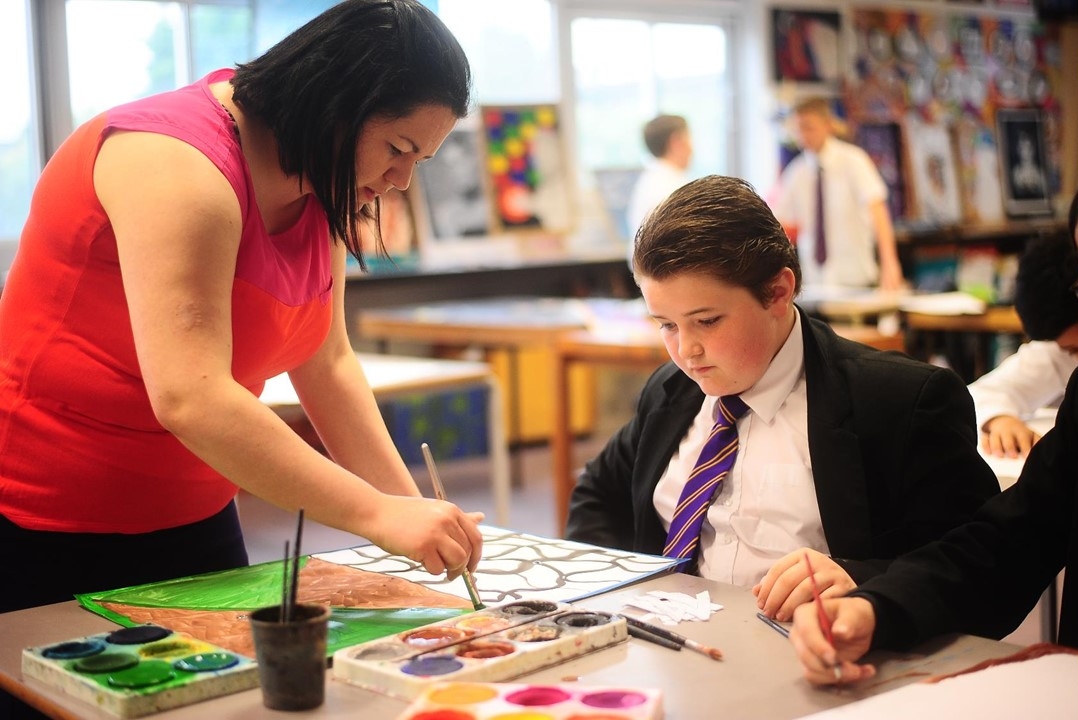 "Mentors were excellent, always helpful and on hand for advice."
Whilst in school, trainees can look forward to support from a number of different professionals, each providing a reflective lens to sculpt and guide, ensuring our trainees finish the year as outstanding classroom practitioners.
Professional Tutors
Professional Tutors provide the overall management of the Trainee within the training school, overseeing the provision for each Trainee and ensuring that equality and consistency is achieved within that provision.
Subject Mentors
The Subject Mentor is the prime agent in training, providing regular guidance on subject knowledge, lesson preparation and delivery, classroom management and the assessment of pupils' work. Weekly meeting time should be used to address those needs identified in the Individual Training Plan and to update targets as appropriate.
Subject Leaders
The Subject Leaders are a carefully selected group of experienced teachers who are passionate about teaching and have chosen to apply to take on this specific role. They are involved with trainees from induction and are there to support trainees subject development in addition to the support trainees will receive from their Subject Mentor in their placement school.
The Subject Leader twilight sessions are held after school enabling trainees in the same subject to come together for discussion, support and training. Subject Leaders also provide support with the planning and construction of PGCE subject focussed modules one and two.
Throughout the year Subject Leaders will visit trainees in their schools and together with the Subject Mentor to carry out paired, graded lesson observations. These observations contribute to trainee grades and enable HTTP to ensure trainees are making the necessary progress.
HTTP Management Team
"My mentor always challenged me to think and reflect..."
Jacqueline Simmonds (Maths)
I have been teaching in Havering for 37 years and during that time I have worked as Head of Mathematics, Assistant Head Teacher with responsibilities for assessment, Borough Maths Advisory teacher and currently I am working as a Mathematics consultant. This experience had been invaluable as a Subject Leader for Mathematics. The trainees that I work with need enthusiasm, "drive", enjoyment for the subject and a passion for seeing students making progress.
Craig Deane (MFL)
Having completed my own training with the Havering Teacher Training Partnership, I am delighted to have returned to the programme as a Subject Leader for MFL. In addition to my roles as Head of Year 10 and second in charge of MFL faculty, I currently teach French and Spanish at key stages 3 and 4.
As a classroom practitioner I am enthusiastic and innovative in my approach towards teaching and learning. It has become my personal mission to break down stigmas and misconceptions surrounding language learning, by making them more accessible and engaging for all students.
I thoroughly look forward to supporting new MFL language teachers in the early stages of their careers and hope to equip them with a range of skills that will stand them in good stead for a fruitful career in the MFL classroom.
Ellie Hobart (English)
After having taught in local schools for eight years, and then being a subject mentor, I felt that the role of Subject Leader would be a fantastic opportunity to continue developing my own teaching skills, as well as playing a role in inspiring new teachers. I am incredibly passionate about the subject and genuinely believe that literature is the way to create a better society. I love introducing young people to new text, authors and literally ideas; there is nothing better than seeing a pupil develop their own love of reading. For me, a trainees needs to be hard working, interesting and interested.
Lauren Bracewell (English)
Following 7 years of key stage 3 and 4 teaching (including time as a second and Head of dept, as well as HTTP mentor) I went on to teach in both Primary and Higher Education sectors. The role of Subject Leader enables me to share my passion for English and inspire trainees to appreciate the exciting opportunities that teaching the subject offers them. A trainee should share this passion, be hard working, ready to learn and have a real desire to connect with and develop the thinking of young people.

Ralph Wells (Music)
Experienced Head of Music and Creative Arts Faculty, with over 10 years experience of training music teachers, many of which now teach in Havering schools. The most important quality of a music trainee teacher, is their ability to ignite a passion for music in schools.
Hannah Webster (Geography)
I fell in love with Geography at a very young age and went on to study a Batchelor of Science Geography degree at Loughborough University. I am a member of the Geographical association and have held the post of Head of Geography for 3 years and been Subject Leader for HTTP for 2 of those years.
Kevin Lucas (Computer Science)
I am an experienced Computing and Business teacher. I am passionate about my subjects and have been working with trainees for the past 10 years. I believe trainees should take all the opportunities that come along and strive to improve.
Vicky Miller (PE)
I always had an interest in sport, playing netball and competing in athletics to a national standard. Taking sport further, I studied Sport Psychology and coaching sciences at university, spending a year on a work placement in a secondary school in New Zealand. Having taught for five years across West London, I have now settled in Havering. I am passionate about PE and believe in giving students the best experiences to hopefully lead them into a healthy active lifestyle. Trainees should be motivated, innovative and passionate about physical education in order to be best prepared to inspire the next generation.
Fiona Bromsgrove (Drama)
I began Training at Performing arts school at the age of 11. I studied GCSE Drama and a BTEC Performing arts National qualification before attending University to Study the arts. My degree majored in Theatre and I started the Graduate Teacher Training Programme in 2009. Since then I have examined for 2 lead boards over the past 8 years and completed the National Professional qualification for Middle Leadership and Excellence with the Havering Teaching Alliance and the Institute of Education. I am passionate about teaching and learning and use this to develop others through CPD at Trainee support.